this post may contain affiliate links
"If you fail to plan, you are planning to fail." -Benjamin Franklin
Staying on track with your fitness goals gets tough sometimes. You've got big plans to lose weight, workout, eat healthy. You're on a roll for a couple weeks, then life gets in the way.
The car breaks down. They're paving the road near the gym. Or hey, you just don't feel like going.
That's life, yeah? It still doesn't have to get in the way of your fitness goals.
Here are my top 5 tips to stay on track and finally tip the scales.
Plan for Setbacks
Life doesn't always go according to plan. But you knew that.
When it comes to fitness, it's best to plan for setbacks. Going to make it to the gym after work but then you get stuck in traffic? Have a few DVD's ready to go at home. Even though you had to miss the gym, you can still make your workout.
Write down a list of your top five 15-Minute workouts, or a list of workouts you can do with body weight and limited time. Keep the list handy for those days when time isn't on your side. You're still able to crush your fitness goals even when plan go astray
Enlist Help
If the budget allows, hire a fitness professional to help you with your fitness goals. A fitness professional can help you set realistic goals, motivate you and give you that extra push you need to stay on track.
Local gyms and even corporate offices have teams of fit pros ready to help you live your happiest, healthiest life.
If hiring a trainer to work with regularly isn't in the budget, download a online fitness plan from a professional customized just for you.
No money at the moment? The initial training session at most gyms is free.
It's also free to ask questions about equipment and general workout advice.
Buddy Up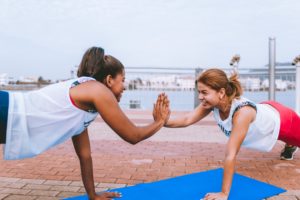 Find a friend with similar workout goals. Even if you can't make it to the gym together, commit to being accountability partners.
Discuss your workout and meal plans for the week on Sundays. Set a day during the week to call and check in with each other.
Having someone you know you need to check in with will keep you motivated. You'll also have someone to share your success with once you reach your goal.
Keep Track
FitBits, and other fitness tracking devices help you keep record of things like daily accumulated steps.
Jot down how many steps you take each day. At the end of the day record your total steps taken. Keep track for the week and Saturdays get a grand total of the steps taken. See if you can find creative ways to add a few more steps in.
Don't want to purchase a wearable tracker. Here are a few apps you can use on iPhone and Android to track steps.
Set Non-Weight Loss Goals
Sure losing 15 pounds in a week sounds like an amazing feat. But let's face it, it's not realistic.
The most weight you can lose in a week is two pounds. Not can…should.
Having goals unrelated to weight will keep motivation and spirits high when the scale doesn't budge. Pick goals related to workouts completed each week, or water intake and total steps taken.
Chipping away at those type goals is the ideal way to get things done. If you can stay off the scale and find other motivations, it will be easier to stay on track.
What methods have you used to stay on track with fitness goals. I'd love to know.