I've heeded the call to eat more plants a few times in my life. Most all my reasons stem from wanting to take better care of my body. This time, it's a mixture of that, intuitive leads, plus a question.
Where the hell does all this chicken in grocery stores come from? The farm, yes, I know THAT. But how does the poultry industry keep up?
Maybe you have similar questions, maybe you don't. If you want to dive into documentaries about the benefits of plant based diets, check out; Forks Over Knives, Food Inc., and Fat Sick and Nearly Dead. I found them all on Netflix.
You don't have to go all veg., like me. I'm leaning more toward vegetarianism. Simply eating more plants has its benefits too. If you're looking to incorporate more vegetables, here are a few tips that I've used.
Think: Eat More Plants
Just like everything else, it starts in the mind. Instead of thinking "eat less meat" think "eat more plants." Say it like Cookie Monster and I think it will stick.
Hubby went vegetarian once. He was killing the pasta, cheese and snacks. Not one to meddle, I lie, I said, "Babe. The purpose of being vegetarian is to eat more VEGETABLES." It was like a light bulb went off in his mind when I said that.
The tendency is to focus on not eating meat when it's more helpful to think about eating more vegetables. Pasta, cheese and chips are all "vegetarian", but lack the nutrients of vegetables.
If the approach to meal prep, grocery shopping, or eating out is about eating more vegetables, you'll look for ways to do just that.
Vegetables for Breakfast
Don't worry, I'm not talking celery juice here. Unless, you like celery juice and want to start your day with a glass.
Think more in terms of the addition of chopped vegetables to your eggs. If you're into omelettes, go the omelette route, but I'm talking more in line with a veggie scramble.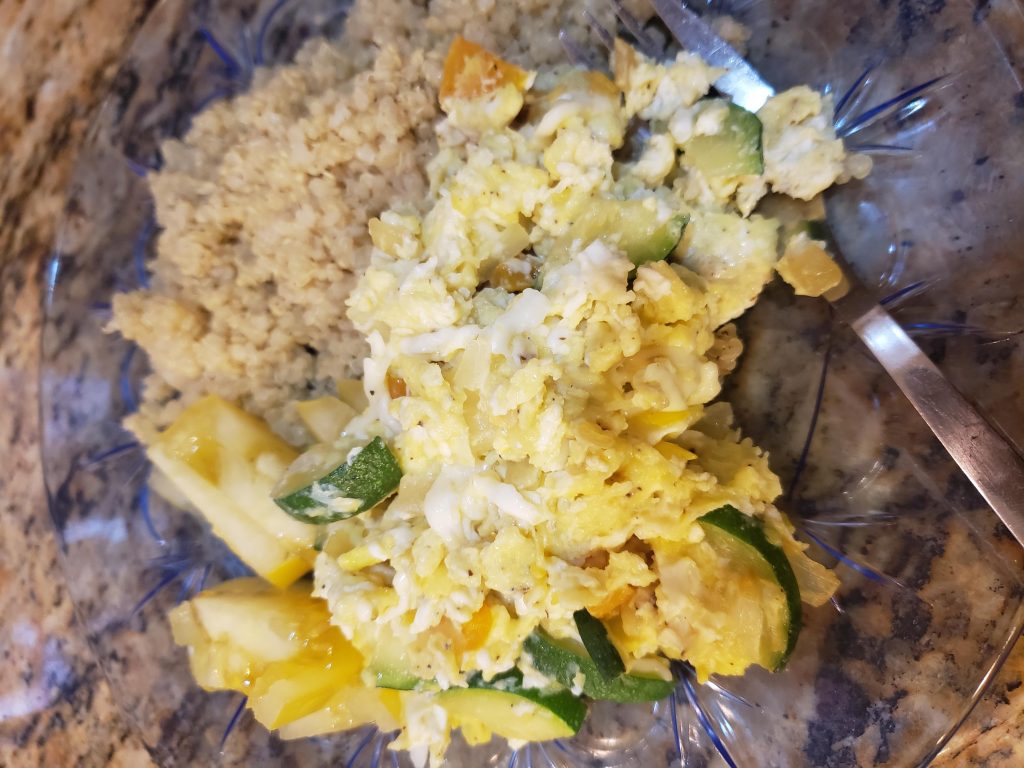 Simply saute vegetables in the same pan the eggs will go in. Saute them first. Once the vegetables are done, add the cooking spray and eggs.
If ideas of what vegetables to use don't come easy, here's a list:
Broccoli
Red/Yellow Bell Peppers
Spinach
Zucchini
Onions
Adding an avocado on the side with breakfast is also tasty.
If you want to go far left, add a side salad to breakfast. It sounds strange if you haven't seen it before but could actually work. Keep it simple, and do a side salad portion.
Hide the Vegetables
If you've followed me on Instagram for any length of time, you know I cook with vegetables in dishes. I shred up carrots, zucchini and onions, adding them to spaghetti, stews and chili. They add fiber to dishes and it's a good way for everybody to get more vegetables on the plate.
We are currently living that toddler life, so you know what that means. I have to find creative ways to sneak vegetables in on an almost two year old. If he likes spaghetti then I just grate the vegetables I want him to have into the meat. If it's something like zucchini or carrots, he can hardly detect them. Same for you.
It does create a little extra work to shred everything, but it's worth it. Use a cheese grater. Grate a little extra in case there's another dish that needs a vegetable boost during the week. Grated vegetables last in the fridge for a couple days.
I don't want to overwhelm you with too many options. These are an easy start. If you have any creative ways you like to sneak more vegetables in, I would love to hear about it. Feel free to comment here or on the post that brought you here.
Thanks for reading.